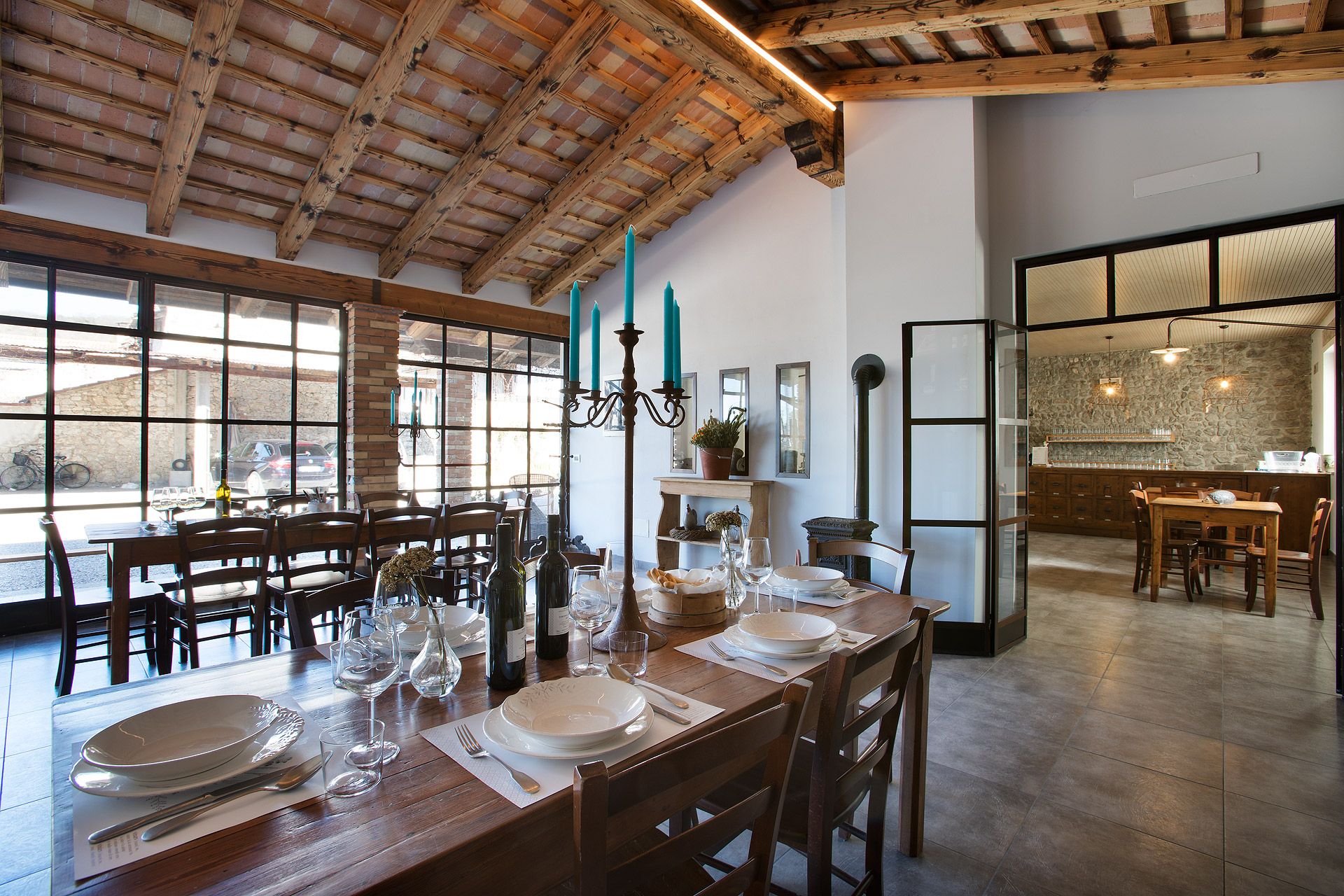 OSTERIA VINARS
From Friuli dialect Vinars [vínars]
like "venerdì", Vinârs [vina: rs] like "vinai, vinaioli, vinattieri"
The Osteria Vinars is an ideal meeting place for all those (families, couples, friends) who are looking for a place full of warmth but who appreciate style and attention to detail.
It differs, in fact, from traditional country taverns, representing a delicate balance of new ingredients.
Whether you arrive by car, by bike (even an electric one, making use of the recharging point available for you) or on foot, as soon as you go through the entrance portico, you are struck by the welcoming internal courtyard with its vegetation in the style of garden designer Piet Oudolf, leading name in the "New Perennial" movement, a naturalistic practice that enhances gardens full of perennial plants and deliberately wild, almost "uncultivated".
As you go on, your eye catches the comfortable portico that gives the environment a relaxed informality, thus promoting a dialogue between inside and outside, expressing love for nature and for the outdoor life.
These spaces can host musical or social occasions, as well as small events, unique occasions in which to be even more pampered.
Finally, you are inside the Osteria Vinars.
Two comfortable rooms that can accommodate up to forty people in total.
In the first room, the focus is on the long, wooden counter with its sixteen drawers that once served as a cabinet containing small items in a haberdashery shop; the second consists of the new "English Tureens Room", opened in November 2019, which can seat 25 people.
The relaxed attention to detail typical of elegant English and French country houses meets the Japanese spirit of Wabi-Sabi, a concept of discreet beauty [wabi], generated by the existence of a natural imperfection linked to the passage of time [sabi].
Such are the objects that make up the Osteria Vinars: asymmetrical, simple, made of natural materials, with rough and irregular surfaces and uneven in colour.
Each element has been chosen with care and attention to infuse the rooms with a unique yet extremely comfortable atmosphere.
In addition to cured meats, a small, thoughtful menu that follows the seasons.
Come and satisfy your desire for genuine products here at the Osteria Vinars!
An Italian tavern with a kitchen that offers few but selected dishes and which, to order, prepares personalised menus, perhaps for your special moments.
A good glass of wine and then…
The platter of cured meats is the king of the table. It contains salami, pancetta, lardo and soppressa, all produced artisan-style by the Brumat family, which personally takes care of raising the animals through to slaughtering and processing the meat, to create the end product.
To complete these delights, there is Crudo D'Osvaldo ham, produced in nearby Cormòns, and a selection of typical Friuli cheeses – Montasio, Formadi Frant and goat's cheese – accompanied by a delicious quince pickle and the ever-present polenta.
And there is also traditional product as cotechino sausage and brovada (turnips marinated in wine), both handmade by the Brumat family, and polenta with "Ros di Aquileia" flour, as well as another Friulan dish: the delicious frico (potatoes and cheese).
You can taste a selection of thoughtful dishes dedicated to local cuisine and more: the toc' in braide (polenta "morchia" and cheese cream) with handmade Brumat sausage, Brumat salami with vinegar, pork ribs in Brumat beer, the delicious pancetta baked in a sauce of citrus fruits or, again, jota (beans and sauerkraut), beef bourguignon and gattò (potato cake).
Are you vegetarian?
You will always find delicious omelettes, homemade quiches or other dishes specially prepared to order.
The magic of the "English Tureens Room"
for your special moments
A space flooded with light, with old exposed beams and a bookcase in solid wood, darkened using the Japanese technique of "shou sugi ban", which houses, among its niches, antique English soup tureens: this is the new "English Tureens Room".
With 25 places, in an elegant and welcoming environment, ideal for creating intimate occasions with your loved ones.
What we love most is to offer a personalised service, attentive and respectful of the needs of our clients and their guests.
We will know how to listen to you and to fulfil your desires.
We will be happy to make even the smallest convivial encounter magical.
It will be lovely to celebrate at the Vinars Osteria a birthday, an anniversary, a small ceremony or, why not, a goal finally achieved, or simply to meet up with friends old and new …
This is real luxury!
Brumat products at your home
Sales and booking methods
You can enjoy the flavours and aromas of the Brumat family products at home.
As these are artisan products, availability may vary according to the time of year.
Brumat wines (0.75 l bottle) are distributed by Osteria Vinars.
It is however advisable to book (using the contact details indicated in the Contacts area), thus agreeing on the day and time of collection.
Where to find us
You can find us in the province of Gorizia, in Medea, in Corso Friuli at no. 46.
We are 10 km from the A4 Venice-Trieste motorway, Villesse exit and from the Tiare/Ikea shopping centre.
For information and reservations
Mobile +39 335 6299703 (also WhatsApp), or here on the website
info@vinibrumat.com
Cash, debit and credit cards accepted.
Tavern opening hours
Thursday from 5.30 pm to 9 pm
Friday from 5.30 pm to 10 pm
Saturday from 10.30 am to 2 pm | from 5.30 pm to 10 pm
Sunday from 10.30 am to 2 pm
On remaining weekdays and when the Osteria Vinars is closed, preferably by appointment (from 9 am to 6 pm).